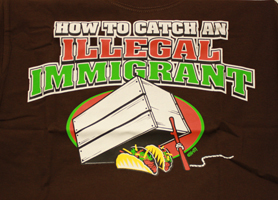 Anti-immigration sentiments fuel the proliferation of stereotypical depictions of Mexicans and Mexican Americans. Although most Mexican Americans are at least partly descended from indigenous peoples, and Mexican Americans have been in the United States for many generations, they are often seen and portrayed as newly-arrived cultural parasites. The stereotypical depictions of Mexicans, especially those thought to be in the United States illegally, are harsh and demeaning. The men are portrayed as illiterate criminals. The women are depicted as hypersexual. Both men and women are portrayed as lazy, dirty, physically unattractive menaces.
The museum has developed educational materials focusing on Hispanic Heritage Month and the interconnections between Jim Crow and the Latinx community.
The goal of the Jim Crow Museum is to tell the stories of injustice towards all groups. More information and images will be coming soon.