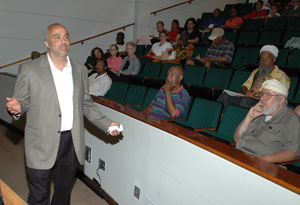 Dr. David Pilgrim, Vice President for Diversity and Inclusion at Ferris State University, is one of this country's leading experts on issues relating to multiculturalism, diversity, and race relations. He has been interviewed by National Public Radio, Time magazine, the British Broadcasting Corporation, and dozens of newspapers, including the New York Times, Washington Post, Boston Globe, Chicago Tribune, and the Los Angeles Times. Dr. Pilgrim is best known as the founder and curator of the Jim Crow Museum -- a 11,000 piece collection of racist artifacts located at Ferris State University, in Big Rapids, Michigan. The museum uses objects of intolerance to teach tolerance. Dr. Pilgrim's writings, many found at www.ferris.edu/jimcrow, are used by scholars, students, and civil rights workers to better understand historical and contemporary expressions of racism. The website has been linked to hundreds of sites and has resulted in Dr. Pilgrim being invited to deliver public lectures at dozens of institutions, including Middlebury College, Stanford University, Spring Arbor College, Colby College, the University of Michigan, Smith College, Washington University, the University of Texas El Paso, the University of North Carolina and Concordia University (Montreal).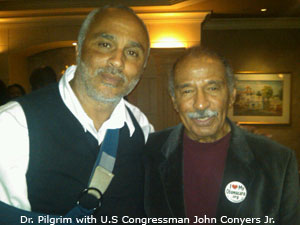 Dr. Pilgrim is an applied sociologist with a doctorate from Ohio State University. He believes that racism can be objectively studied and creatively assailed. In 2004, he produced with Clayton Rye the documentary Jim Crow's Museum to explain his approach to battling racism. The film won several awards including Best Documentary at the 2004 Flint Film Festival. Marc Haefele, a film critic at the Los Angeles Daily News called the documentary, a "grisly low-key masterpiece." Jim Crow's Museum is shown nationally on affiliates of the Public Broadcasting Service (PBS). Dr. Pilgrim's writings, scholarly and creative, deal with multiculturalism and race relations. His short stories have been published in Calaloo, Obsidian, African American Review, Aim, and Shooting Star. He is the author of Understanding Jim Crow: Using Objects of Intolerance to Teach Tolerance (PM Press, 2015).

Dr. Pilgrim and Ms. Carrie Weis created two traveling exhibitions to take the Jim Crow Museum's lessons to a national audience. Hateful Things is a 39-unit traveling exhibition of objects found in the Jim Crow Museum. The objects are accompanied by didactic panels that place the images in the proper historical context -- offering insight into their past and present popularity-and effects. Hateful Things has traveled to many institutions, including Aquinas College, Delta College, Utah Valley State University, and the Black Holocaust Museum. Dr. Pilgrim and Ms. Weis, in 2005, created a second traveling exhibition, Them: Images of Separation, a 35-unit exhibition that deals with the stereotyping of women, poor Whites, gays, Jewish Americans, Native Americans, Mexican Americans, African Americans, and Asian Americans -- and others. Dr. Pilgrim believes that Reverend Martin Luther King Jr. was right when he said, "Injustice anywhere is a threat to justice everywhere." Diversity is more than a black-white issue; more, indeed, than a racial issue.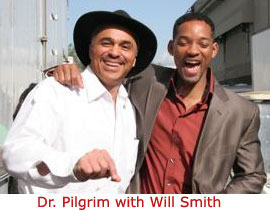 In 2006, Dr. Pilgrim served as a consultant to Will Smith (directorial debut) for the UPN television show, All Of Us. Mr. Smith wanted to make sure that the episode -- called "The N-Word" -- dealt with issues of race and racism in a non-stereotypical fashion. In 2013, Dr. Pilgrim and the Jim Crow Museum were featured in The African Americans: Many Rivers to Cross, a PBS series narrated by Professor Henry Louis Gates, Jr.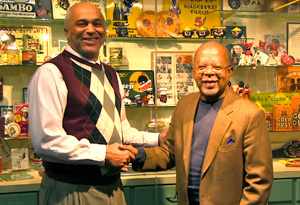 Dr. Pilgrim challenges audiences to think deeply about diversity and race relations. He is a Ferris State University Distinguished Teacher. Dr. Pilgrim has spent his adult life using objects of intolerance to teach tolerance. It works. His goal is to get people talking about diversity and race relations in meaningful ways -- and, then, to go and do something positive.
If you are interested in bringing Dr. Pilgrim to your campus or community please email [email protected] or call 510-647-9115.