Q: Did you know that Grand Rapids had an Aunt Jemima's Kitchen?
~L. Vanderhave
Grand Rapids, Michigan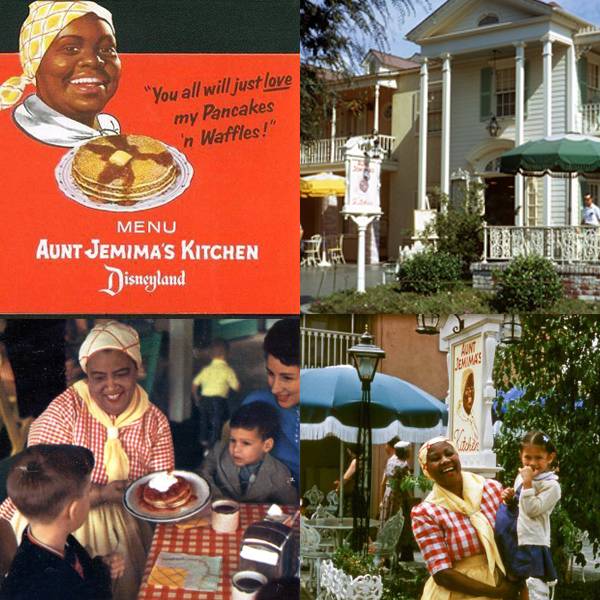 A: Aunt Jemima's Pancake House was a restaurant that began at Disneyland in Anaheim, California, in 1955. It was located on New Orleans Street in Frontierland and featured indoor and outdoor patio seating. The restaurant served mainly breakfast foods until 1962 when it was renamed Aunt Jemima's Kitchen—with an expanded menu. The Disneyland restaurant featured an actress, Aylene Lewis, who dressed up as the fictional Aunt Jemima: wearing a red-and-white plaid dress, yellow tie and apron, and a yellow-and-red kerchief on her head. She served tables, sang, and routinely took pictures with patrons. Visitors to Disneyland (Frontierland) found a fine Southern house, a lovely wooden building with pillars, elegant balconies with filigreed columns, and a porch area with a filigreed fence. The interior of the restaurant was a beautiful space featuring dining tables covered with long white tablecloths. Wood paneling and wooden dining chairs provided a homey feeling, as did the brick walls in the cooking area.
The restaurant hosted the Aunt Jemima Pancake Race on National Pancake day. Participants wore official Aunt Jemima pancake race aprons (some with head scarfs) while carrying griddles with pancakes. The contestants ran to the finish line while tossing their pancakes over ribbons strung across the course—while attempting to catch the pancakes back in the griddles. The first one to cross the finish line with the pancake won a $100 prize (roughly $950 in 2019 dollars). The winner also had their picture taken with Aylene Lewis—still wearing her Aunt Jemima outfit.
Aunt Jemima Kitchen was a successful business. By 1963, there were 21 locations across the United States, one in Bristol, England, and one in Toronto, Canada. Most of the restaurants did not look like the one at Disneyland; they were modeled after a one-story ranch style home with a fireplace and four pillars near the entrance. We were unable to find any images of the inside décor of the stand-alone locations.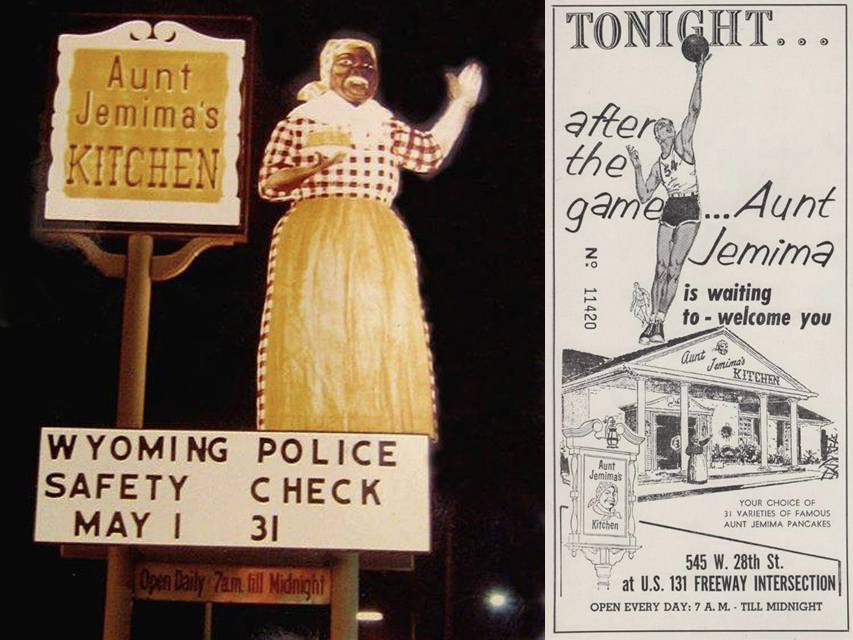 To answer the question, no, we were not aware that Grand Rapids was home to an Aunt Jemima's Kitchen. Apparently, it was the only Aunt Jemima's Kitchen restaurant in Michigan. The restaurant was located at 545 28th Street, on the corner of US 131 and 28th Street. Aunt Jemima's Kitchen operated in Grand Rapids throughout most of the 1960s, until it was changed into the Colonial Kitchen in 1968. The building, which is still there—with many of its original features, including the four pillars in front of the building—is currently home to a tax services business. The Jim Crow Museum welcomes additional information (and memorabilia!) related to Aunt Jemima's Kitchen restaurant.
Fran Rosen and Franklin Hughes
Ferris State University
2019