Question
Why is the Jim Crow Museum at Ferris State University?
Answer
We have heard that question many times. It is likely that many of the people who have asked that question are unaware of the social justice work of Woodbridge Nathan Ferris, our founder. He was a true visionary and ardent supporter of education for all people, including students of color.
From 1910 through 1928, a number of African American students attended Ferris Institute; many of them came from Hampton Normal and Agricultural Institute (known today as Hampton University). They came to Ferris to take college preparatory courses. Some remained to complete degrees; others left and completed their degrees at other northern universities. Among this collection of young African American students were men who later would serve as editors of national newspapers, argue cases before the United States Supreme Court and advise presidents and civil rights leaders. Those Hampton-Ferris students changed the lives of many and the direction of a nation. In the coming months we will share stories about some of these pioneering African Americans who attended the Ferris Institute.
Percy A. Fitzgerald
Percy A. Fitzgerald was born to Alex and Eva Fitzgerald on April 19, 1896, in Blackstone, Virginia (Cobb, 1920). Percy was one of eight children born to the couple. Fitzgerald attended the Hampton Institute in Hampton, Virginia, and graduated in 1917. After graduation, he taught briefly in Blackstone before joining the Army on October 27, 1917 (Washington Post 1967). Fitzgerald was sent to France during World War I; while there he was transferred to the Fifteenth Infantry as Supply Sergeant (Southern Workman 1919). The Fifteenth Infantry was later renamed the 369th Infantry gained worldwide notoriety as the Harlem Hellfighters.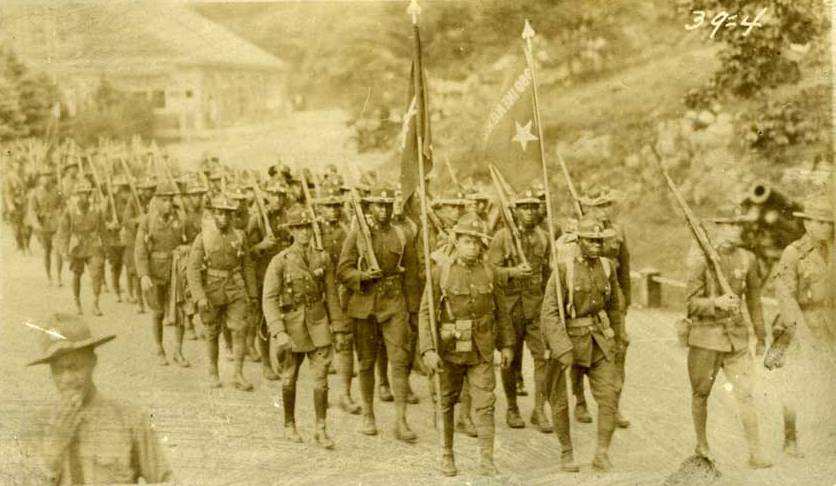 The Harlem Hellfighters were an African American infantry unit stationed in France. The Hellfighters "spent more time in combat than any other American unit" during World War I (History WWI Videos). They were called the Hellfighters because of their courage and toughness. In a letter written by Fitzgerald while in France, he spoke of one of the unit's battle incidents:
"During the big drive which started on the night of September 25 our boys took an active part. The regiment was in for twelve days and came out much smaller than it went in. Most of the fighting was in the open with no trenches" (Southern Workman 1919).
Although the unit did suffer heavy losses during many battles, it is said "they never lost a man through capture, lost a trench, or a foot of ground to the enemy" (Lewis, 2017). The 369th was reported to be the first unit to cross the Rhine into Germany (National Archives).
When the Hellfighters finally returned home from the war in 1919, they were greeted by millions of supporters as they paraded through the streets of New York (Who Were the Harlem Hellfighters?). Despite their heroism and dedication to the United States, they returned home to face Jim Crow racism and segregation.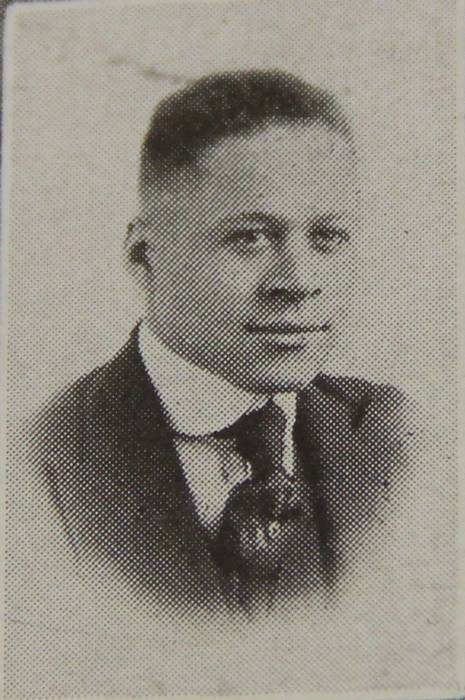 After the war, Percy Fitzgerald continued his education and enrolled at the Ferris Institute joining other Hampton Institute alum: Belford Lawson, Nathan Miller, and Maceo Santa Cruz to name a few who were enrolled at the Big Rapids, Michigan campus. Fitzgerald graduated from the College Preparatory program in 1920 and went on to study dentistry at Northwestern University. In 1924, Fitzgerald earned his Doctorate of Dental Surgery (D.D.S) from Northwestern and practiced dentistry in the Chicago area until 1931. At that time he joined the teaching faculty of Howard University in Washington D.C. (Washington Post, 1967). In 1936, Fitzgerald became the second African American to earn a Masters of Science in Dentistry from Northwestern, being preceded by Russell A. Dixon, his colleague and dean at Howard University (San Antonio Register, 1936). In 1936, Fitzgerald was named the head of the Prosthodontia Department of Howard University.
Fitzgerald had a distinguished career in the field of dentistry as a practicing professional and as a faculty member. He wrote many articles on dentistry and presented at numerous national dental conferences. He was a professor of dentistry at Howard University for over 30 years and was named national Dentist of the Year in 1959 (Chicago Defender, 1959). In 1960, more than half of the nation's 1,681 African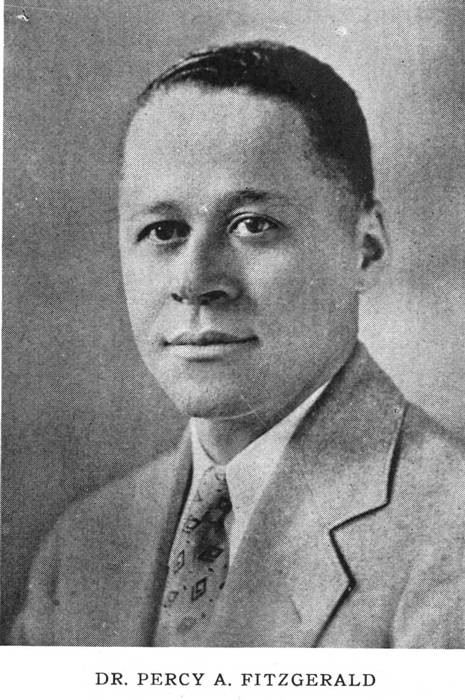 American dentists were graduates of the Howard University College of Dentistry and Percy A. Fitzgerald was a part of the leadership staff (Ebony Magazine, January 1960).
Percy Fitzgerald was a charter member of Omicron Kappa Upislon, a national honor society for dentistry, a member of the National Dental Society, and a visiting lecturer at Meharry Medical College in Nashville, Tennessee (Washington Post 1967). Today, Howard University dental students compete for the Percy A. Fitzgerald Outstanding Achievement Award in clinical crown and bridge (Certified Lumineers Specialist).
We at Ferris State University are proud to call Percy A. Fitzgerald an alumnus. We are proud to be known as an institution attended by Fitzgerald, a Hellfighter and a nationally recognized and esteemed dental technician.
Franklin Hughes and David Pilgrim
Jim Crow Museum
2017
References
Certified Lumineers Specialist. (2010, January 9). People you need to know Women's Magazine
http://www.sparkplugpeople.com/hidden-dangers-in-your-mouth-2/
Cobb, W. W. (1920). The final roster, a roster of the soldiers who saw service in the great war from Nottoway County, Va. Lynchburg, VA: Printed by J.P. Bell, pg. 159.
https://archive.org/details/finalrosterroste00cobb
Dr. Percy A. Fitzgerald, 71, Taught Dentistry at Howard. (1967, May 28). The Washington Post, Times Herald , p. B6.https://search.proquest.com/hnpwashingtonpost/docview/143127881/BEBF0FE23624D6BPQ/1?accountid=10825
Gates, H. L., Jr. (n.d.). 100 Amazing Facts about the Negro: Who Were the Harlem Hellfighters? PBS: The African Americans, Many Rivers to Cross.
Lewis, R. (2017). Because they Endured...We Are! Trafford Publishing.
More than half of U.S. Negro dentists are it's graduates. (1960, January). Ebony Magazine, 21-28.
National Archives. (n.d.). Photographs of the 369th Infantry and African Americans during World War I.
https://www.archives.gov/education/lessons/369th-infantry
Receives M.S.D. (1936, July 3). San Antonio Register, p. 8. Associated Negro Press Photo
https://texashistory.unt.edu/ark:/67531/metapth390244/m1/1/zoom/?resolution=2&lat=3615&lon=1866
Rewards for Outstanding Work. (1959, September 19). The Chicago Defender, p. 7a. Associated Negro Press Photo
This URL will direct you into MyFSU. To see this article log into MyFSU. You will betaken into a Library search tool. Search for Rewards for Outstanding work AND Chicago Defender for September 19 1959.
The Southern Workman (1919). Vol. 48. Hampton, VA: Hampton Institute. Pg. 45