Question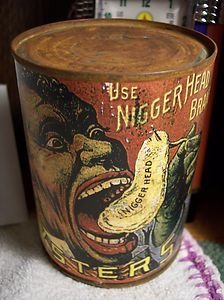 Do you have a can of Niggerhead Oysters? I have a can if the museum wants it.
~Sam Medvale
Atlanta, Georgia
Answer
In 1953, a grocery advertisement in a Jackson, Tennessee, newspaper advertised Nigger Head Oysters for 45 cents a can.[1] There was nothing unique or even rare about the advertisement; Nigger Head Oysters were sold in many of the nation's stores, particularly in the South. The product's name offended many Americans, especially those in the young civil rights movement. In August 1955, Jet magazine reported that the Aughinbaugh Canning Company of Biloxi, Mississippi, had changed the name of its brand from Nigger Head Oysters to Negro Head Oysters. The change resulted, in large part, from pressure brought by the NAACP.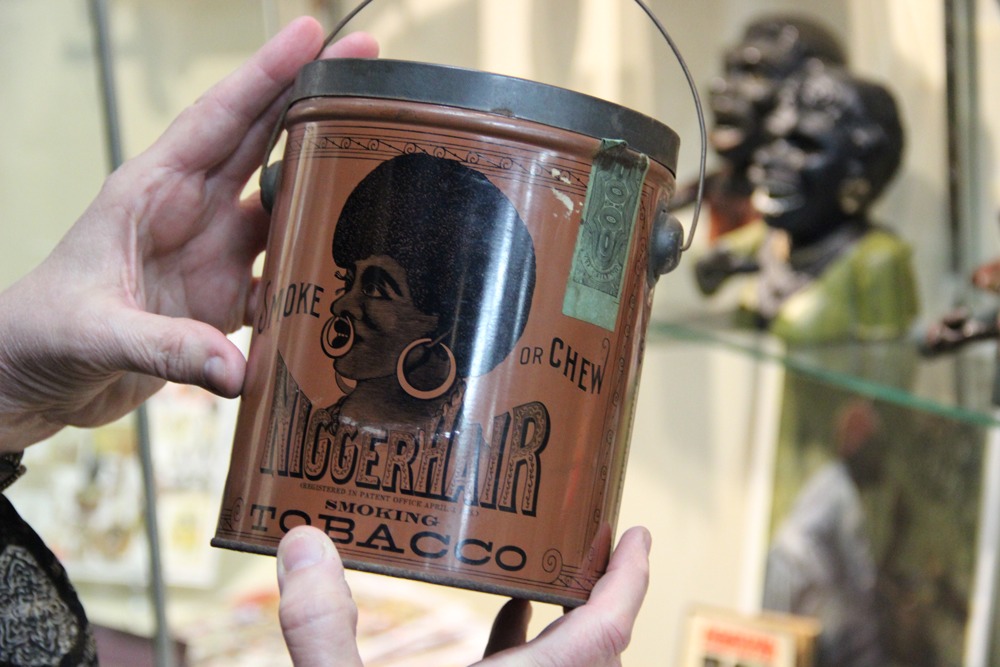 During the Jim Crow period, Nigger Head[2] had many uses. In 1878, the B. Leidersdorf Company, located in Milwaukee, Wisconsin, began manufacturing Nigger Hair Smoking Tobacco. The product was packaged in tins or paper, each with a representation of "the head of a negro surmounted with a copious crop of wool, and having a large ring pending from the nose and another from the ear."[3] In the 1950s, the product was renamed Bigger Hair, again, because of pressure from the NAACP.
In 1892, Kaufmann, a clothing distributor, advertised "400 fine English Nigger-Head Suits, cut in single and double-breasted sack styles…."[4] In 1925, the Davenport Leader included an advertisement for Niggerhead Coal. The Matthes Coal and Construction Company guaranteed that Niggerhead Coal was more efficient and a better buy for the money than was soft coal. According to the advertisement, "If you want the best, most economical and convenient coal to burn this winter—by all means try Niggerhead."[5] Sometimes Matthes Coal used a representation of a well-dressed black man to accompany their advertisements.[6]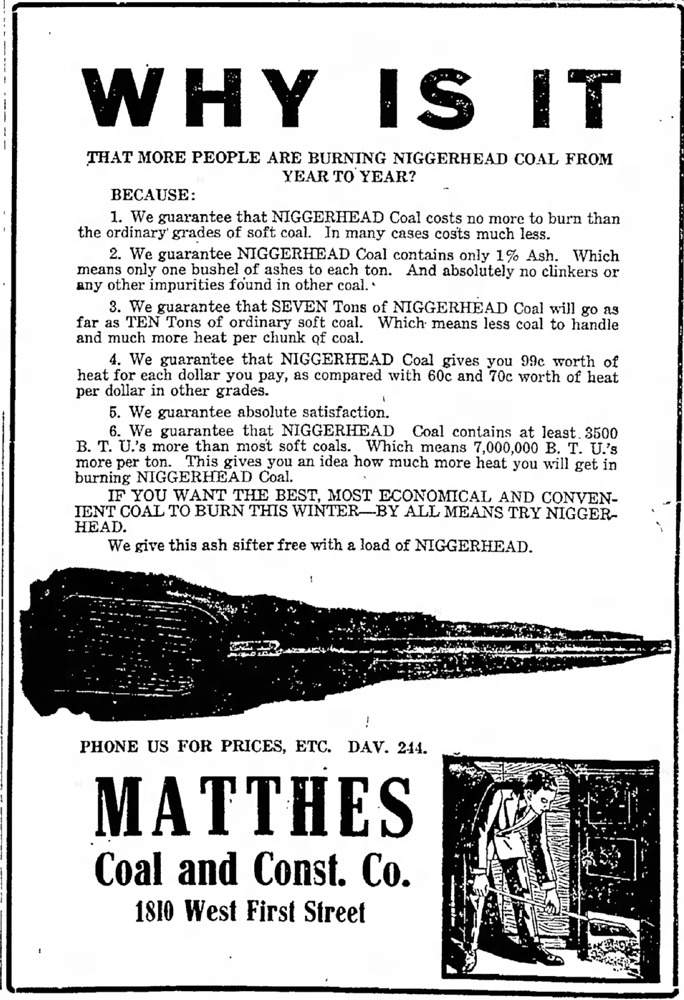 In the 1930s, one could buy "niggerhead (boucle) overcoats."[7] In 1931, a newspaper suggested that smooth sandstones and boulders were called niggerheads because of their "fancied resemblance in color and hardness to a negro's head."[8] This, of course, taps into the stereotype that black people have exceptionally hard skulls—which, by the way, supposedly made them immune to head trauma. In 1935, there was a baseball team in Anniston, Alabama, called the Niggerheads.[9] In 1962, an English newspaper had an article about the niggerhead vegetable, "a coloured cabbage, small, firm, rich dark red…."[10]
In the not-so-distant past, many geographical locations included Niggerhead in their names. In 1962, the U. S. Board of Geographic Names tried to address this by changing many of the names; however, there were local communities who refused to follow suit. In 1971, the University of Vermont (UVM), was "the owner of 320 acres of land surrounding two-thirds of Niggerhead Pond and including what appears to be the southeast portion of Niggerhead Mountain."[11] In that same year, about 300 UVM students staged a protest to call for a change in the names of Niggerhead Pond and Niggerhead Mountain.[12] It was relatively common in the 1960s and into the 1970s to witness disputes about whether a community should rename Niggerhead Pond, Niggerhead Mountain, Niggerhead Lake, or some similarly named place.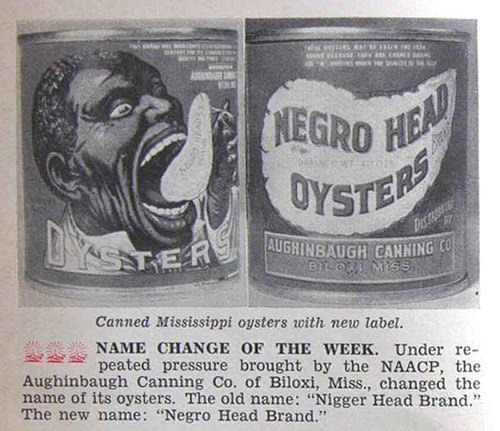 You may remember the controversy involving Governor Rick Perry from Texas, briefly a top tier candidate for the Republican presidential nomination of 2012. Perry hosted lawmakers and friends at his family's secluded hunting camp, located in West Texas. At the entrance—painted in block letters on a flat rock—was the name of the camp: "Niggerhead." Neither Perry nor a member of his family named the hunting lodge nor painted the rock; however, his use of the facility raised questions about his racial views.

I apologize for the detour. The Jim Crow Museum has one can of Negro Head Oysters; we do not have a can of Nigger Head Oysters. So, yes, a hundred times yes, we want the can of Nigger Head Oysters. We can also use a can of Nigger Head Shrimp.
David Pilgrim
Jim Crow Museum / Ferris State University
2017
References
[1] The Jackson Sun (Jackson, Tennessee), February 26, 1953, p. 19. They also advertised Niggerhead Shrimp for 49 cents a can.
[2] It is sometimes written niggerhead.
[3] Rosemary J. Coombe, The Cultural Life of Intellectual Properties: Authorship, Appropriation, and the Law. (Durham, North Carolina: Duke University Press), 1998, p. 176.
[4] Pittsburgh Dispatch (Pittsburgh, Pennsylvania), September 3, 1892, p. 8.
[5] The Daily Times (Davenport, Iowa), October 2, 1925, p. 25.
[6] Quad-City Times (Davenport, Iowa), October 27, 1921, p. 12.
[7] Lincoln Journal Star (Lincoln, Nebraska), August 27, 1930, p. 3.
[8] The Albany Capital (Albany, Missouri), April 30, 1931, p. 4.
[9] The Anniston Star (Anniston, Alabama), June 2, 1935, p. 12.
[10] The Observer (London, Greater London, England), July 22, 1962.
[11] The Burlington Free Press (Burlington, Vermont), March 18, 1971, p.39.
[12] The Burlington Free Press (Burlington, Vermont), March 20, 1971, p. 6.