Question
Why is the Jim Crow Museum at Ferris State University?
Answer
We have heard that question many times. It is likely that many of the people who have asked that question are unaware of the social justice work of Woodbridge Nathan Ferris, our founder. He was a true visionary and ardent supporter of education for all people, including students of color.
From 1910 through 1928, a number of African American students attended Ferris Institute; many of them came from Hampton Normal and Agricultural Institute (known today as Hampton University). They came to Ferris to take college preparatory courses. Some remained to complete degrees; others left and completed their degrees at other northern universities. Among this collection of young African American students were men who later would serve as editors of national newspapers, argue cases before the United States Supreme Court and advise presidents and civil rights leaders. Those Hampton-Ferris students changed the lives of many and the direction of a nation. In the coming months we will share stories about some of these pioneering African Americans who attended the Ferris Institute.
Belford V. Lawson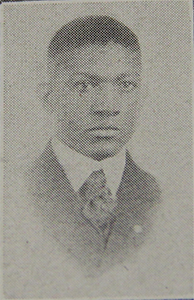 Belford V. Lawson, of Roanoke Virginia, attended Hampton Institute from 1916 until 1919, and then the Ferris Institute in 1919-1920. After attending Ferris, he enrolled at the University of Michigan. Lawson played on Michigan's 1923 National Championship team. He was the school's second African-American varsity football player (having been preceded by George Jewitt in the 1890s) and one of three African American players during Fielding H. Yost's coaching tenure (Walker, 2015). Lawson received two reserve letters from the University of Michigan football team in 1921 and 1922 (Walker, 2015). In 1923, while at Michigan, Lawson won a number of oratorical contests (Detroiter March 1923; Negro Halfback May 1923). He graduated from the University of Michigan in 1924 and taught at Morris Brown College before enrolling at Yale to study Law. He was not a graduate because his funds were depleted. Lawson went to Washington D.C. and worked for the Supreme Liberty Life Insurance company. He attended Howard University where he received a law degree in 1932 (Parks, G., & Bradley, S. M. pg. 124, 2012).
Lawson is best known as an attorney and civil rights activist. In 1933, he co-founded the New Negro Alliance (NNA) in Washington, D.C., to combat white-owned businesses in black neighborhoods that would not hire African Americans. With campaigns such as "Don't Buy Where You Can't Work," and "Jobs for Negroes" the NNA gained national attention. From 1933 through 1937, the NNA produced a weekly newspaper called the New Negro Opinion to highlight campaigns for civil rights (Eaton, n.d.).
While working with the New Negro Alliance, Lawson had the distinction of being the first African American to win a case before the nation's highest court. Lawson argued and won the New Negro Alliance v. Sanitary Grocery case before the nations highest court in 1938 (Eaton, n.d.).
He made at least eight appearances before the United States Supreme Court, and in 1950, won the Henderson v. United States case where Thurgood Marshall assisted him (HENDERSON, 1950; Law Week, 1950). Charles Hamilton Houston, attorney and dean of Howard University Law School, mentored both Lawson and Marshall (Parks, 2012).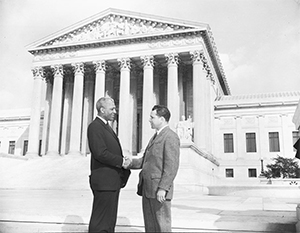 Lawson was a pioneer and could have an entire book written about his life and accomplishments along with the accomplishments of his wife Marjorie who was a judge, professor, legal educator, and column writer for the Pittsburgh Courier. He was the first African American to address the Democratic National Convention, the first African American board member of Madison National Bank in the nation's capital, and the first African American national president of the Young Men's Christian Association (YMCA). He also was the 16th national president of Alpha Phi Alpha fraternity, the first African American Greek-lettered fraternity. Both Lawson and his wife Marjorie served as advisors for John F. Kennedy's Senatorial campaign in 1958 and Presidential campaign in 1960 (Culturaltourism.org).
The Lawson's home is part of an African American history tour in Washington, D.C. He also has a plaque in Roanoke, Virginia commemorating role models from the Gainsboro neighborhood, a formerly thriving African American community that was a self-contained and a successful business community. Lawson was from that neighborhood and is highlighted as a successful civil rights attorney (Chittum, 2014).
Belford V. Lawson is one of the most accomplished attorneys and civil rights activist in the country and we at Ferris State University are proud to call him one of our alumni.
Franklin Hughes and David Pilgrim
Jim Crow Museum
2016
References
Chittum, M. (2014, February 26). Panels let pedestrians stroll through Gainsboro's history. (paywall)
Detroiter Wins Honor in Debating Contest. (March 10, 1923, page 8). The Lansing State Journal, Lansing, Michigan.
https://www.newspapers.com/image/207491838/?terms=%22belford%2Bv.%2Blawson%22
Eaton, A. (n.d.). New Negro Alliance, The (1933-1940's) | The Black Past: Remembered and Reclaimed.
HENDERSON v. UNITED STATES (1950).
Negro Halfback Wins Oratorical Honors. (May 19, 1923, page 12). The Pantagraph, Bloomington, Illinois.
https://www.newspapers.com/image/?spot=6686701
Parks, G. S. (2012). Belford Vance Lawson, Jr.: Life of a Civil Rights Litigator. SSRN Electronic Journal.
Parks, G., & Bradley, S. M. (2012). Alpha Phi Alpha: A legacy of greatness, the demands of transcendence. Lexington: University Press of Kentucky.
The United States Law Week, Vol. 18, No. 39, p.3277 (April 11, 1950).
Walker, S. (2015). SLC man pioneer for Michigan football, black Mormons.