Question
Does anyone own copyrights to Jim Crow Era segregation signage, such as the famous "Whites Only" or "Colored Entrance" signs?
--Jerome Ward
Hartford, Connecticut
Answer
No, and yes.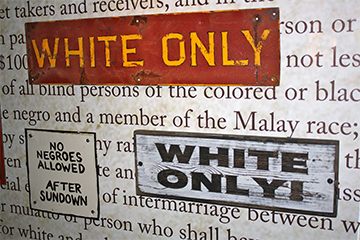 No, no one owns the copyrights to original Jim Crow Era segregation signs. There are at least two entries in copyright law that exclude originals from being copyrighted. U.S. copyright law states: "US copyright does not cover names, title, short phrases or listings (such as ingredients, recipes, labels, or formulas)" (I). So short phrases comprised of common words such as "Whites Only" or "Colored Entrance" could not be copyrighted.

The second entry in copyright law that precludes originals from being copyrighted defines simple signs created to enforce laws or direct behavior as Useful Articles: "If a pictorial, graphic or sculptural work is a useful article, it is copyrighted only if its aesthetic features are separable from its utilitarian features. A useful article is an article having an intrinsic utilitarian function that is not merely to portray the appearance of the article or to convey information about the article. They must be separable from the functional aspect to be copyrighted" (II). In other words, the signs would have to have artistic merit beyond their simple function to be copyrighted.

Which brings us to the "yes" part of the answer. Segregation signs can be copyrighted if they are used, or can be claimed as being used, as art or as artistic statement beyond their original function. In the mid-to-late 1990s, African-American artist Marchel'le Renise Barber created a line of reproduction Jim Crow Era segregation signs and sold them in her store "Martha's Crib". She copyrighted them as the Martha's Crib Jim Crow Sign Series: "Barber conscientiously marks her own signs as reproductions. Although she meticulously imitates the lettering, shapes, colors, and borders of the originals, she stamps her versions 'Historical Reproduction' and sells them at the bargain rate of ten dollars apiece. She also stamps them with the name of her store, the copyright symbol, and current date. Her signature replaces that of the companies that commissioned and produced the originals… the date of the ordinance on the originals is displaced by the date of the copyright… it is not the original object or language, but the copy that is copyrighted, reserving to Martha's Crib the exclusive right to continue to make copies. The copy, apparently, is an original, a form of intellectual property, whose originality resides in its conception and execution as a copy" (III).
So, original Jim Crow Era segregation signs are not copyrighted in and of themselves, but reproductions or originals used in an art piece or installation can be copyrighted so long as they are used in an original construction or context beyond their original function.
References
(I) Circular 34, U.S. Copyright Office, www.copyright.gov. Accessed 27 May 2015.
(II)"U.S Copyright Office – Copyright Law: Chapter 1" (PDF). Accessed 27 May 2015.
(III) Norman, Brian Representing Segregation: Toward an Aesthetics of Living Jim Crow, and Other Forms of Racial Division SUNY Press 2012 pp 29-30
Michael Maxson
Docent - Jim Crow Museum
June 4, 2015