Question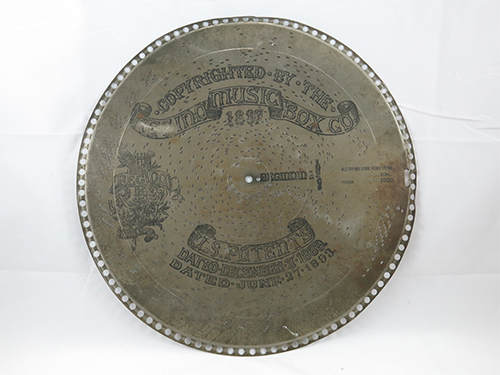 Do you ever run across anything racist that is new or unusual to add to the museum's collection?
--M. Joyce
Charlotte, North Carolina
Answer
We are always looking for unique items to add to the museum's collection. And, of course, we encourage and appreciate donations to the museum, no matter how big or small. From single matchbooks to entire collections, we'll gladly accept any item(s) that can be used for the museum's purpose of using racist objects to teach history and promote understanding. With over 9,000 pieces currently in the collection, and new artifact donations received several times per week, we're in the somewhat odd position of being excited when we come across something we haven't seen before. Even considering the noble cause of the museum, it's strange to be excited by any object that is racist. And when we find something "new", it can be a sobering reminder of just how much of the stuff is out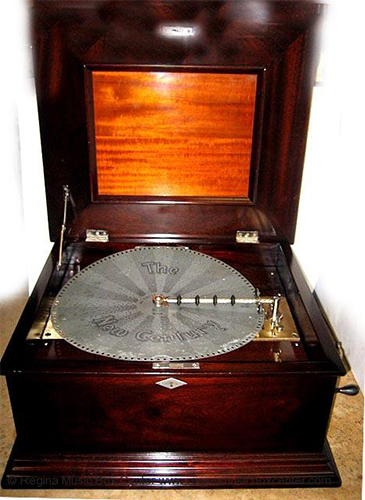 An example that was generously donated recently is a thin metal disc 15 ½ inches in diameter with reel-like holes around the perimeter and dozens of tiny prongs punched throughout its surface. There are fairly elaborate turn-of-the-previous-century graphics painted directly onto the disc. These graphics indicate that it was made by the Regina Music Box Company, 1897. It is obviously part of a large music box. It's visually interesting and appealing; almost steampunk in its appearance. It would display very well. Unfortunately for a "normal" collection, but fortunately for this museum, also painted on the disc is the title "All Coons Look Alike to Me" (video of disk playing song). While we could make obvious deductions and assumptions about the object by its graphics and overall appearance, none of us had seen one of these discs or knew much about music boxes.
When we find something we don't know much about, after a thorough examination, our first step is what anyone else would do: run to the Internet and our favorite search engine. Typing in "Regina Music Box" returns a wealth of information. Apparently music boxes were quite popular for a fairly brief period of time at the turn of the previous century and enjoy a healthy community of enthusiasts and collectors today (I).
The popularity of disc music boxes coincided with the popularity of "Coon Songs" and the late era of minstrel shows. Judging by the volumes of racist sheet music from this exact period that are in the museum's collection, it shouldn't come as a shock that minstrel shows and "Coon Songs" would find their way into other forms of entertainment. But when you think of music boxes, blatant and casual racism isn't exactly the first thing that comes to mind. Below is a list of other discs that Regina produced for its music boxes. The list is not exhaustive, and it doesn't include discs produced by other manufacturers. And while African-Americans were the most frequent target of the racist tunes, beyond the titles listed, the catalogue also includes titles that slander Native-Americans, Mexicans, Asians, Middle-Easterners, Pacific-Islanders, Aborigines, and others:
"Darkies Dream", "Old Black Joe", "Rastus on Parade", "No Coon Can Come Too Black For Me", "If the Man on the Moon Was a Coon", "Take the Nigger to the Woodpile", "The Little Alabama Coon", "All Coons Look Alike to Me", "I'll Make Dat Black Gal Mine", "My Coal Black Lady", "I Don't Care If You Nebber Comes Back", "A Red Hot Coon", "Famous Black Moguls", "Wedding of the Chinese and the Coon", "No Coons Allowed", "Christening of a Little Black Coon", "Pickaninny Jubilee", "Trip to Coontown", "Yer Ain't Triflin', Is Yer?", "Whistling Rufus", "He Done Lost His Lady", "The Piccaninnies", "I Don't Like No Cheap Man", "I's Loves My Baby", "At a Darktown Cakewalk", "Alabama Coon's Jubilee", "My Hannah Lady Whose Black Baby is You", "All I Wants is My Black Baby Back", "Ma Lady Lu-Darky Love Lament", "Hogtown Picaninnies", "An Etheopian Mardi Gras", "My Charcoal Charmer", "The Colored Major", "Ma Black Pearl", "Minstrel Boy", "Coon, Coon, Coon", "She's Gettin' Mo' Like the White Folk Every Day", "Mammy's Little Pumpkin Colored Coons", "Ain't Dat A Shame", "Nobody's Lookin' But De Owl and De Moon", "My Princess Zulu Lulu", "My Bamboo Queen", "Africana", "Mississippi Mamie", "Rich Coon's Babe", "Tain't No Disgrace to Run When You're Skeered", "When Coons Have a Dreamland of Their Own", "Gimmee De Leavin's", "Tain't the Kind O' Grub I Been Gettin' Down Home", "African Dreamland", "Sambo and Dinah", "Bullfrog and the Coon", "Sam Will Oblige-Colored Inspiration", "Is Everybody Happy-Rufus Rastus Song", "Abolene, Ma Kaffir Queen", "Black Jim", "Tar Baby", "Darkies Spring Song", "Oh! You Beautiful Coon!", "Massa's in the Cold Ground" (II).
Reading this list, you might think the Regina Company produced only racist titles. In fact, the vast majority of disc titles in the Regina catalogue are not racially charged. There are over a thousand different discs with ordinary and recognizable titles. But seeing starkly racist titles sprinkled among the catalog of the American songbook only emphasizes the casualness of the racism of the era. The discs are readily available on online auction sites and can be had for under $30. Working music boxes are surprisingly available and range from several hundred dollars into the tens of thousands of dollars. Video and audio of music boxes playing the discs are available online. The boxes had dozens and even hundreds of striking tines depending on the model, so the music has surprising layers and depth. The gentle, melodic, tinkling music certainly evokes an earlier time. Unfortunately, many of the titles also evoke the common racist attitudes of that time.
References
(I) History of the Music Box. 2013. reginamusicboxcenter.com/history.php. Accessed May 28, 2015.
(II) 15-1/2" Regina Disc Catalog 5/3/2015. http://antiquemusicbox.us/regina15.pdf. Accessed May 30, 2015
Michael Maxson
Docent - Jim Crow Museum
August 10, 2015