Question
Senator Harry Reid got in trouble for referring to President Obama as a "light skinned" African American with "no Negro dialect." What's the big dea with using the work Negro? Last time I checked there was a United Negro College Fund run by blacks.
--John Babcock - Williams, Arizona
Answer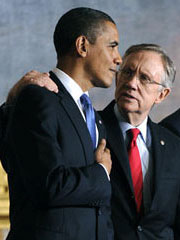 Senator Harry Reid apologized for his comment, made before the 2008 election, that Barack Obama could win in part because he was a "light skinned" African-American with "no Negro dialect." Reid, who is resisting calls for his resignation, described the gaffe as a "poor choice of words." When did the word Negro become socially unacceptable?
It started its decline in 1966 and was totally uncouth by the mid-1980s. The turning point came when Stokely Carmichael coined the phrase black power at a 1966 rally in Mississippi. Until then, Negro was how most black Americans described themselves. But in Carmichael's speeches and in his landmark 1967 book, Black Power: The Politics of Liberation in America, he persuasively argued that the term implied black inferiority. Among black activists, Negro soon became shorthand for a member of the establishment. Prominent black publications like Ebony switched from Negro to black at the end of the decade, and the masses soon followed. According to a 1968 Newsweek poll, more than two-thirds of black Americans still preferred Negro, but black had become the majority preference by 1974. Both the Associated Press and the New York Times abandoned Negro in the 1970s, and by the mid-1980s, even the most hidebound institutions, like the U.S. Supreme Court, had largely stopped using Negro.
Had Sen. Reid chosen to defend his word choice, he could have cited some formidable authorities. Colored was the preferred term for black Americans until W.E.B. Du Bois, following the lead of Booker T. Washington, advocated for a switch to Negro in the 1920s. (Du Bois also used black in his writings, but it wasn't his term of choice.) Despite claims that Negro was a white-coined word intended to marginalize black people, Du Bois argued that the term was "etymologically and phonetically" preferable to colored or "various hyphenated circumlocutions." Most importantly, the new terminology -- chosen by black leaders themselves-symbolized a rising tide of black intellectual, artistic, and political assertiveness. (After achieving the shift in vocabulary, Du Bois spearheaded a letter-writing campaign to capitalize his preferred term. In 1930 -- nine years before Harry Reid was born -- the New York Times Style Book made the change.) Black supplanted Negro when the energy of this movement waned.
In 1988, after the black power movement had itself faded, many leaders decided another semantic change was required. Jesse Jackson led the push toward African-American. But, so far, the change does not seem to have the same momentum that Negro and black once did. In recent polls, most black interviewees express no preference between black and African-American, and most publications don't recommend the use of one over the other.
It can be challenging for institutions and older people, who have seen racial terms come and go during their lifetimes, to adapt. The NAACP, founded in 1909, declined to change its name during the DuBois revolution but did stop using colored in all other contexts. Negro History Week, begun in 1926, changed to Black History Month in 1976. The United Negro College Fund is now trying to emphasize its initials rather than its full name. The last time the Supreme Court used the word Negro outside quotation marks or citations to other scholarship was in 1985. The writer was Justice Thurgood Marshall, the first black Supreme Court justice, who came of age during the time of DuBois. Despite public outcry, the U.S. Census still includes the word Negro, because many older people still use it.
October 2010 response courtesy of Slate http://www.slate.com/id/2241120/