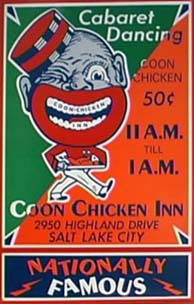 Curator's Notes: The Coon Chicken Inn was a highly successful restaurant chain from the late 1920s through the 1950s. A grinning, grotesque head of a bald Black man with a porter's cap and winking eye formed a restaurant's entryway. The door was through the middle of his mouth. The restaurants sold southern fried Coon Chicken sandwiches, chicken pie, livers -- and hamburgers, seafood, chili, cakes, and assorted sandwiches. When possible, Blacks were used as waiters, waitresses, and cooks. The grandson of its founder wrote a brief history of the Coon Chicken Inn chain. We thank him for allowing us to print his account.
---
I am a descendant of the original founders of the Coon Chicken Inn. I preface this essay by saying that I do not condone the "Jim Crow" attitudes of the past. I and ALL of my siblings believe in full equality for all races, creeds, and skin colors. My grandparents were entrepreneurs engaging in what were normal business practices. They left behind artifacts, popularly called "Black Memorabilia," that serve as reminders that this particular part of history must never, and will never, be repeated. The following is a brief history of the Coon Chicken Inn restaurant chain.
The Coon Chicken Inn was founded by Maxon Lester Graham. To understand the history of the Coon Chicken Inn you first have to understand my grandfather. He was born on June 17, 1897, and almost immediately demonstrated a flair for business. We have read numerous accounts from his mother's diary of what a young entrepreneur he was. He sold lemonade and popcorn, and picked strawberries in the Salt Lake City area to save money for some kind of business. In 1913, at the age of 16, he answered an advertisement for the Metz Automobile Company. They were looking for agents that could pay for a carload of six Metz cars. Maxon, with the financial backing of a local bank, was awarded a distributorship for Utah, Idaho, Nevada, and Wyoming. He named his business the M.L. Graham Company. Maxon was the youngest car dealership owner in the country.
From 1923 to 1924, Maxon's car distribution expanded to include the Carter, Dort, Moon, Elcar, and Gray models. In 1924 the M.L. Graham Company had a promising year -- records show paper profits of $75,000. The company worked under a $90,000 bank loan. Grandpa's company financed the cars for his customers. They paid him; he paid the bank. The bank notes were for 90 days, and for years they were paid as they came due. One fall many of his customers, who were sheep and cattle men, ran into trouble. Maxon had to repossess many cars -- this money was used to pay the bank. About that time a new bank president was elected, and he would not renew the notes. The bank repossessed all 40 of the cars on the lot and put them up for auction at one lump sum. Maxon went to a friend who operated a small store and borrowed $2,000 to buy back the cars. His friend approached the bank, they jumped at the chance and Maxon and his friend sold the cars for a $2,000 profit.
This brings us to the Coon Chicken Inn. By this time Maxon had married Adelaide Burt, and they were looking for a new business venture. On Sundays they frequently drove to a small town, south of Salt Lake City, to a small restaurant that served excellent chicken. The recipe was easy to prepare and my grandparents believed the chicken would do well in Salt Lake City. At the time there were no fast-food stands outside the city. They decided to build a restaurant in Sugar House, a Salt Lake City suburb. They found a location on Highland Drive near the West Side High School. For $50 they purchased a small building containing three stools, an ice box, and a small counter. Thus, in 1925 they were in the chicken business.
The business took off immediately, and it was not long before they enlarged the place: an addition with tables and a dance floor along with more counter space. By 1927 they had added so many additions that it started looking like a Katzenjammer castle. On the week before the Fourth of July, 1927, about 6 p.m., the restaurant caught fire. The place was grease-soaked from deep fat frying, and soon the fire was out of control. This tragedy was about three months after the Salt Air Pavilion, located on Great Salt Lake, had burned to the ground. The organizers of the Pavilion had hired over 250 carpenters to rebuild it so Maxon and Addie had no trouble finding the help to rebuild their restaurant. They were afraid that competitors that had sprung up would take their business. So they erected a sign stating that the place would be re-opened within ten days. They put up flood lights, hired some 50 carpenters and worked day and night. The painters were painting as soon as a board was in place. Crowds in cars flocked to watch the progress. They opened on schedule with a banner crowd. The place smelled and tasted of paint, but it opened. It proved to be one of the best advertising ploys ever.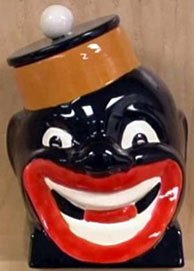 Late in 1929 they opened another Coon Chicken Inn in Seattle on Lake City Way Northeast. The restaurant opened with fanfare and was an immediate success. Soon Maxon and Addie moved to Seattle. In 1930 they added the restaurant on Sandy Boulevard in Portland, Oregon. All three sites were booming. A cabaret and orchestra were added to the Seattle and Salt Lake City restaurants. These later restaurants also had larger dining rooms and delivery trucks for outside catering. Maxon decided that if a gimmick were added for the children it would help bring in the parents. He added the famous head logo to the entrances of the inns. At the time it proved quite popular. The logo of the Inn was on every dish, silverware item, menu, and paper product. Today, many of these items are very popular in the Black Memorabilia market. Be careful if you are interested in buying a genuine Coon Chicken Inn item. We have found that some of the items that are being sold as originals are in fact fakes.
The Coon Chicken Inns ran until the late 1950's when Maxon and Addie decided to keep the properties and lease out the buildings to other restaurant operators. On the Seattle site is Yings Drive Inn, the Salt Lake City site is now the Chuck-A-Rama, and the Portland site is home to the Prime Rib.
Again, I want to stress that we do not intend to offend anyone, and are only preserving a part of history that should remind us all of the senselessness of racial prejudice. The Coon Chicken Inn plates, menus, matchbooks, toothpick holders, cups, bowls, etc. are collector's item around the world.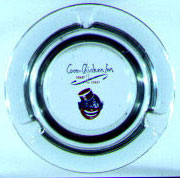 BUYER BEWARE: Items that are being sold as originals on eBay and in your local antique shops may be real Coon Chicken Inn items from the original Inns. However, THESE ITEMS ARE NOT ORIGINALS: Glass Tumblers, Glass Ashtrays, Money Clips, Finger Rings, and A Fan Menu with completely different logo, but with the Coon Chicken Inn name. I see these all of the time, they are worth $10 as novelties, but they have no antique value. I have bought a few from a warehouse in New York myself (but I paid $7).