New York City
by Dick Friz
The Black Memorabilia & Artifacts Show was held on June 4 at the Borough of Manhattan Community College in New York City.
The collecting pursuit for Black memorabilia and Afro-American historical artifacts has reached a fever pitch in recent years. Auctioneer Rick Opfer of Timonium, Maryland, has recently held several notable estate auctions devoted to the subject. Jeannette Carson, editor of Black Ethnic Collectibles Magazine, reported not long ago in U.S.A. Today, "Items depicting positive and historical images were prominent at the Black Memorabilia Collectibles Show in Silver Spring, Maryland, which drew more than 6000."
There are several books on the subject, including Black Collectibles Sold in America by P.J. Gibbs and Antique Trader Black Memorabilia Price Guide with contributing editor Leonard Davis, a noted dealer who showed kitchen items, ceramic figurines, and cookie jars at the June 4th New York City show. Jan Lindenberger, a pioneer dealer from Colorado, was busily signing her recent books on Black memorabilia at the show.
Elizabeth Meaders (shown) wears a second hat as dealer; this was her baptism as show promoter. She led us to a veritable "wall of fame" in her booth and remarked that her items focused more on contemporary Blacks whom people looked up to leaders in sports, entertainment, and politics.
Ms. Meaders singled out a song sheet, How Sweet It Is, signed by Marvin Gaye; a framed makeup of a Jackie Wilson song sheet, Night, with a clipped autograph by Wilson; and a photograph of actor/singer Paul Robeson dressed as a cowboy. Senator Edward Brooke, Republican senator from Massachusetts from 1966 to 1978 and the first Black senator to serve in the 20th century, beamed down from a signed photograph. Prices here, as was often the case all over the hall, were next to impossible to pin down. We did learn that a framed contract signed in the 1940's by jazz diva Billie Holiday hovered in the $1500 price range.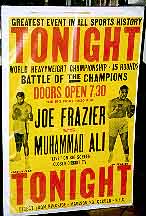 It was somewhat mystifying to see which material relating to Black notables was getting the biggest play in various booths. Muhammad Ali, Jackie Robinson, and "Satchel" Paige material was abundant and usually carried a steep price tag.
The demand for O.J. Simpson and Mike Tyson (even before the June 28th ear biting incident) items seems almost nonexistent, although we did spot a signed Emerge Magazine cover featuring lawyer Johnnie Cochran with a plaque reading "Because He Knows the Game." Malinda Saunders told us that such leading entertainers as Dorothy Dandridge and Josephine Baker are cult icons, but the late Sammy Davis, Jr. (himself an avid Black collector) is not. Inexplicably, Martin Luther King material has been slow to take off, but Medgar Evers material rates top priority, and there is never enough Angela Davis material to go around.
Roger Harris of Elkins Park, Pennsylvania, deals in cigar-box art, old playing cards, postcards, and what he calls the "usual gallimaufry." A few days after the show, Harris told us by phone that he had done very well with postcards ranging in price from $10 to $25. One of his choicest offerings, a $400 souvenir spoon with a Black scene hand painted in the bowl, also sold.
Gregory Spears, an artist in oil and pastels, confirmed later that he felt the major buying activity at the New York show focused on entry-level collectibles as opposed to the creations of Black artisans. Business was slow for Spears's paintings and ceramics. His superbly hand-colored ceramic bowls ranged from $150 to $200. One of his acrylics on canvas in a style with a strong influence of Edward Hopper, Midnight Cafe, was priced at $700.
Malinda Saunders of Washington, D.C., is a familiar figure at Black memorabilia shows. She founded the granddaddy of them all, the Black Memorabilia Collectibles Show in Silver Spring, Maryland now an annual event held the first weekend of April. Saunders, who is confined to a wheelchair, related that her very first show was launched in October 1984, but there was a five-year hiatus due to her illness. Her booth featured figural ceramic cookie jars, dolls, and other items.
Saunders told us that at her first show, the collectors who streamed down the aisles were predominantly White, but today the mix is almost completely the opposite. "For many years, Black memorabilia shows at the International House in Harlem were attended almost exclusively by our people," said Saunders.
Collector/auctioneer Allen Liffman, an early attendee at the show, felt that it reflected how far this collecting genre has really come. "At the first Black memorabilia show in Silver Spring, Maryland, I attended in '89, you could find all kinds of great stuff fresh to the market material. Today, the truly relevant material is getting harder and harder to find, and what was currently available here was overpriced by as much as forty to fifty percent above retail."
Liffman was still able to pick up some choice items for his own collection. One specific category that he feels is quickly edging into the mainstream is Ku Klux Klan material. (A Klan hooded robe at the show quickly sold.)
As we wove our way through packed aisles and out to the plaza, we noted queues of Black teenagers poring over old copies of Ebony, Jet, and Ramparts, sorting through comic trade cards, postcards, and valentines, and admiring colorful U.S. postage stamps in the booth of Dr. Ernest Austin of New Jersey. Malinda Saunders aptly summed it up. "Only now do we see the tide turning as our people are beginning to grasp and appreciate the historical and social significance of Black material culture even though they often represent blatantly negative racial stereotypes."
© 1997 by Maine Antique Digest