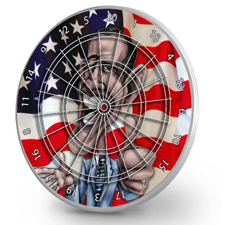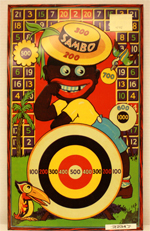 Using blacks as targets for recreation or games is not a new phenomenon. At the same time, high-profile politicians, like the President of the United States, are consistently the "target" of attacks from political opponents, media, and individuals with differing viewpoints. With the Barack Obama Dart Board, individuals are able to physically throw darts at the president or, perhaps, his policies in the comfort and safety of their own homes.
Link to Obama Dartboard on Amazon (accessed 5/24/2017)
Product Description
"This Obama dart board makes playing darts a bit more entertaining! Buy an Obama dart board for a funny gag gift or Christmas gift. The Barack Obama Dart Board is custom printed with a hand drawn, one of a kind cartoon image of Obama. Use an Obama dart board to express your political opinion or support, either way enjoy throwing darts with Obama as your target."